Harbortown Solutions Freelancing


Harbortown Solutions is a small Memphis-based consulting firm providing web application, database integration and software solutions. We also provide software configuration, virus protection and intranet setup for small businesses with a peer-to-peer environment of 15 desktop users or less.
Common Scenarios
You have bad, incomplete or unusable data that must be cleaned before moving to another website or other database
You have a ton of spreadsheets, manual workarounds and other inefficiencies that make you wonder how your organization has managed to survive and thrive.
You want to learn web development.
PDF Development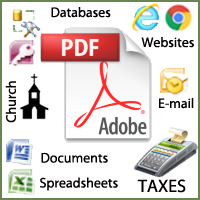 Convert PDF document to or from another formats: Databases, websites, spreadsheets, taxes.
Welcome
Services
Certifcations

Microsoft Certified Professional
Microsoft, License 3445515

Duke University
Bachelor of Science (BS)
Computer Science/Economics
1986 – 1990

Security Clearance
United States
Department of Defense License